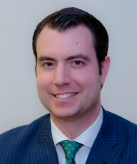 Elliot's practice is focused on personal injury litigation. He is dedicated to protecting the rights of accident victims and their families. Elliot's clients benefit from his legal experience, client focused approach and legal problem solving skills.  Elliot is committed to maximizing results for his clients.
Elliot previously worked at a national law firm and at the largest victim-side personal injury law firm in Ontario where he gained valuable litigation experience. Elliot has frequently appeared in the Superior Court of Justice and has co-authored a number of articles, which have been presented at legal education seminars. Elliot is also a contributing author of a recent textbook on property rights.
Elliot holds an International Bachelor of Business Administration degree from the Schulich School of Business, York University. As part of the IBBA program, he completed the Undergraduate Program in European Management at the École Supérieure de Commerce de Rouen in France. Upon his return to Toronto, Elliot earned a degree in Urban Studies from York University and graduated with Merit on the Dean's Honour List. Elliot holds a Bachelor of Laws degree from the University of Windsor and was admitted to the Law Society of Upper Canada.
When he is not advocating on behalf of his clients, Elliot enjoys playing hockey and working on his golf game.
Elliot can be reached by email at: egoodman@ghpersonalinjurylaw.com
Education
Bachelor of Laws, University of Windsor (2008)
Bachelor of Arts (with Merit), York University (2005)
International Bachelor of Business Administration (Honours), Schulich School of Business, York University (2004)
Completed the Undergraduate Program in European Management at the École Supérieure de Commerce de Rouen (France)
Practice Areas
Motor Vehicle Accidents
Bicycle/Motorcycle Accidents
Accident Benefits
Slip and Falls
Product Liability
Dog Attacks
Medical Malpractice
Wrongful Death
Long-Term Disability
Matrimonial Litigation
Wills, Estates and Trusts
Professional Affiliations
Ontario Bar Association
Canadian Bar Association
The Advocates' Society